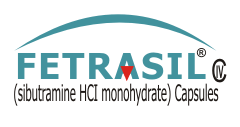 FETRASIL is available by prescription only.

Use and Important Safety Information You Should Know About
FETRASIL® (sibutramine HCl monohydrate) Capsules C-IV
USE
FETRASIL® (sibutramine hydrochloride monohydrate) is used for people who need to lose 30 pounds or more, depending on height, and should be used with a reduced-calorie diet.
Important Safety Information You Should Know
FETRASIL is not for everyone. Do not take FETRASIL if you:
Have, or ever have had, a heart problem, including

Heart attack
Chest pain or heart disease caused by poor blood flow in the heart (e.g., angina)
Heart failure
A fast heart rate or uneven heartbeat
Hardening of the arteries or other blood vessels; poor circulation in the legs

Have or ever had a stroke or stroke symptoms
Have high blood pressure over 145/90 mmHg and it is not controlled by medication or you are not on medication
Are over 65 years of age
Are taking monoamine oxidase inhibitors (MAOIs)
Have an eating disorder called anorexia nervosa or bulimia nervosa
Are taking weight-loss medications to control your appetite
Are allergic to any of the ingredients of FETRASIL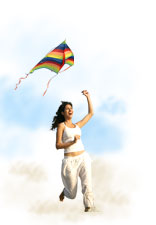 FETRASIL can cause a large increase in blood pressure or heart rate (pulse) in some people. Your doctor should check your blood pressure and heart rate before you start FETRASIL and continue checking it regularly while you are taking it. It is important to have regular check-ups with your doctor while you are taking FETRASIL.
You should not take FETRASIL if you have severe liver or kidney disease, if you are pregnant or planning to get pregnant, or if you are nursing.
A rare but life-threatening problem called "serotonin syndrome" may occur when people take drugs that affect a brain chemical called serotonin along with FETRASIL. Do not take other medicines with FETRASIL unless your doctor has told you it is okay to do so. Get medical help right away if you have any of the following symptoms, especially if you take other medicines with FETRASIL: feeling weak, restless, confused, or anxious; loss of consciousness; fever, vomiting, sweating, shivering or shaking; muscle stiffness or spasms; or fast heartbeat.
Talk to your doctor about all medications (including prescriptions for depression and those which may increase risk of bleeding), over-the-counter medicines such as cough and cold, and herbal products that you are currently taking or have recently taken.
Tell your doctor if you have or ever have had glaucoma, thyroid problems, seizures, bleeding problems, gallstones, or depression.
Certain weight-loss medicines have been associated with a rare but life-threatening condition that affects the blood pressure in the lungs (pulmonary hypertension). Because the condition is rare, it is not known if FETRASIL may cause this disease. If you experience new or worsening shortness of breath, notify your doctor immediately.
The most common side effects include headache, dry mouth, anorexia, constipation, and insomnia.
FETRASIL is a controlled substance (CIV). Keep your FETRASIL in a safe place.

Each Fetrasil Tablets contains 5 mg, 10 mg, and 15 mg of sibutramine hydrochloride monohydrate. It also contains as inactive ingredients: lactose monohydrate, NF; microcrystalline cellulose, NF; colloidal silicon dioxide, NF; and magnesium stearate, NF in a hard-gelatin Tablets [which contains titanium dioxide, USP; gelatin; FD&C Blue No. 2 (5- and 10-mg Tabletss only)

weight lossFetrasil is indicated for the management of obesity, including weight loss and maintenance of weight loss, and should be used in conjunction with a reduced calorie diet. Fetrasil is recommended for obese patients with an initial body mass index ≥ 30 kg/m2, or ≥ 27 kg/m2 in the presence of other risk factors (e.g., diabetes, dyslipidemia, controlled hypertension).

DOSAGE AND ADMINISTRATION
The recommended starting dose of Fetrasil is 10 mg administered once daily with or with

out food. If there is inadequate weight loss, the dose may be titrated after four weeks to a total of 15 mg once daily. The 5 mg dose should be reserved for patients who do not tolerate the 10 mg dose. Blood pressure and heart rate changes should be taken into account when making decisions regarding dose titration (see WARNINGS and PRECAUTIONS).

Doses above 15 mg daily are not recommended. In most of the clinical trials, Fetrasil was given in the morning.

Storage
Store at 25°C (77°F); excursions permitted to 15°-30°C (59°-86°F) [see USP controlled room temperature]. Protect Tabletss from heat and moisture. Dispense in a tight, light-resistant container as defined in USP.

WARNINGS
Blood Pressure and Pulse
This is the most important information to know about FETRASIL. For more information, talk with your health care provider.

Reference: FETRASIL [package insert]. INDIA, IL: Taj Pharmaceuticals Ltd.
You are encouraged to report negative side effects of prescription drugs to the FDA. Visit or call 1-800-FDA-1088.
www.fda.gov/medwatch If you cannot afford your medication, contact:

www.tajpharma.com or call the toll-free phone number (91 22 30601000 -NOW) for assistance.